敬请与我们联系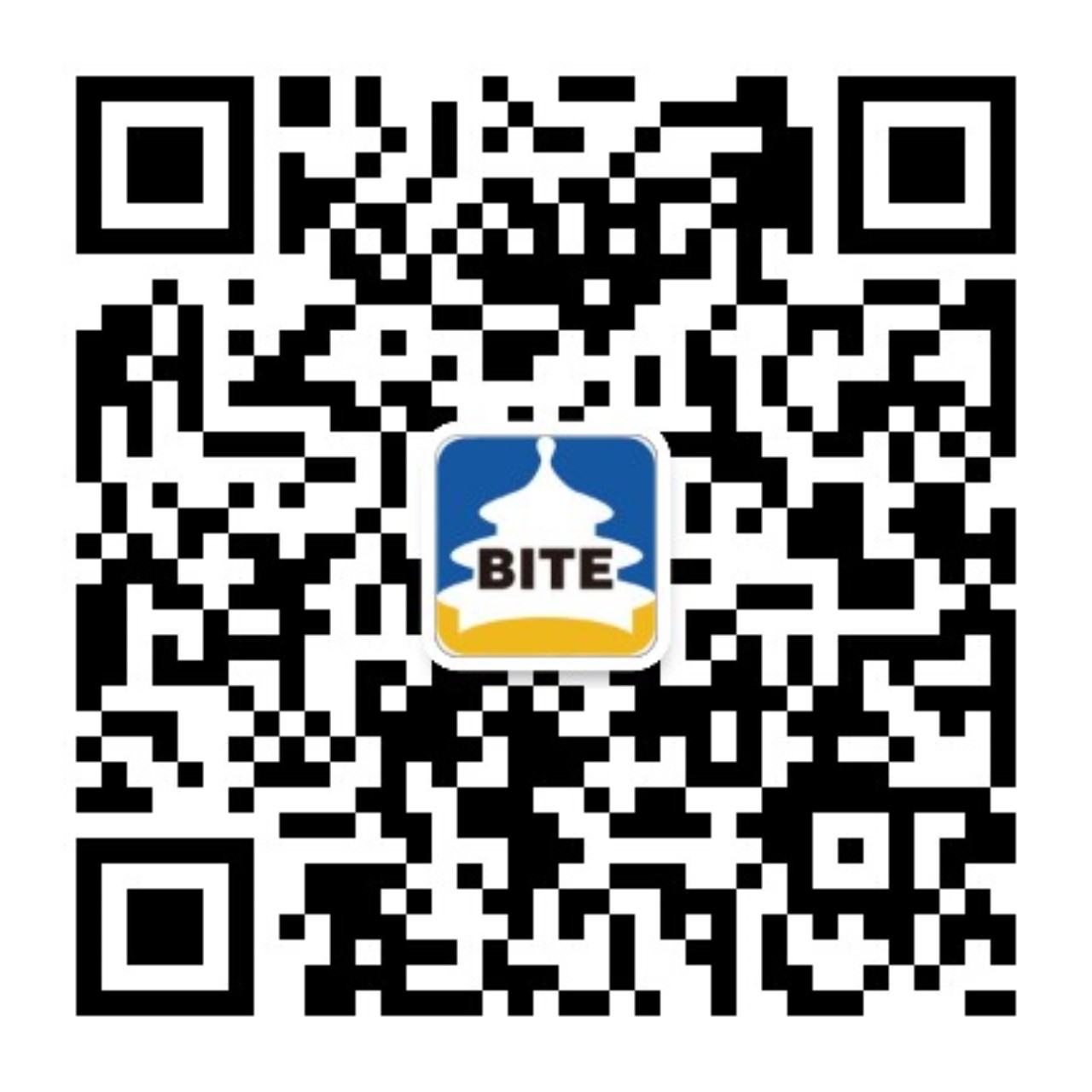 关注"国际旅游展会"公众微信号
About BITE
Beijing International Tourism Expo 2020
Cosmopolitanism Rooting on China's Travel Trade Platform
Date: September 3 - 6 2020
Venue: China National Convention Center
Sponsor: Beijing Municipal Culture and Tourism Bureau
Background
Beijing International Tourism Expo (BITE) is the most influential and internationally renowned tourism expo sponsored by the Beijing Municipal Culture and Tourism Bureau. BITE is an important travel trade platform for exchange, global tourism industries, resources and products promotion, and tourism consumption acceleration. BITE has been successfully held for 16 years.
BITE has originated the unique B2B + B2C Effective Operating mode which has succeeded over a decade and recommended by exhibitors at home and abroad.
BITE 2020 not only includes traditional tourism resources but also: Tourism Investment and Financing; Tourism Real Estate; Resort Town; Cuisine; SPA; Study Tour; Cultural Tour; Smart tour; Sports Tour; Health and Wellness Travel; Outdoor Travel; RV & Camping; Winter Olympics Theme, and many other full-chains and multi-fields comprehensive tourism.
Highlights
Exhibitors will receive an independent OPSA account for making appointments with buyers online before the expo. An exclusive Matchmaking Meeting Area will be set up for exhibitors and buyers to improve the performance of the expo.
B2B + B2C Effective Operating
B2B + B2C will be effectively operating during the expo: the First & Second Day – B2B Trade Day, the Third & Fourth Day – B2C Public Days.
B2B Trade Day: Hosted Buyers will visit exhibitors stands in the morning, the Matchmaking Meeting will begin in the afternoon at the exclusive meeting area.
B2C Public Days: International exhibitors could invite Chinese travel agencies to their strands or the other way around, exhibitors to go Chinese travel agencies stands to attract the public.
It is a BITE phenomenal for international destinations and Chinese travel agencies to gain popularities amount the public through on-site cooperation activities, and BITE has a marvelous abundance of travel lovers.
Hosted Buyer Program
500 quality buyers will be strictly invited in more business fields, and in particular in Chinese outbound travel agencies and MICE buyers.
Media
Mainstream media, TV stations and local media will be boosting the event nationwide in before, during, and after the expo, including major networks, TV, Magazines, Radios, Weibo, Wechat, Livestream, etc. to reach all targeted groups.
Featured Forums
Latest topics, ideas, industries trends, featuring experts and elites in exchange.
Exhibition Scope
Domestic/International Tourism Institutions, Enterprises; Chinese Culture and Tourism Department/Bureau, Tourism Industries Associations; MICE Services Institutions; Smart Travel Services; Travel Agencies; Hotels/Featured Food & Beverage; Scenic Spots; Airlines; Vehicle & Ship Services; Tourism Destinations; Theme Parks; Sports, Leisure and Entertainment Venues; Culture and Tourism Complex Projects; Tourism Real Estate; Health & Wellness Tourism Institutions; Tourist Goods; and other relevant tourism industries Press, Media, etc.
BITE 2020 HBP PLUS+
Chinese outbound tourism market is accelerating in multi-levels, Beijing, Shanghai, Guangzhou, Shenzhen and other first-tier cities are the top, although many renowned international tourism destinations are still popular in these cities, but there are lot new destinations, destination features and tourist projects are about to become the new favorite. At the same time, in second and third-tier cities, the outbound tourism market has been dragged from Southeast Asia to the US, Europe, and to other destination features, etc. Cruise travel has many differences among Chinese cities according to the product needs, life style, consumption habits, and outbound travel features in different parts of China.
BITE 2020 Hosted Buyer Program will focus on matching exhibitors' features.
1. For featured and deep tourism products, e.g.: Leisure Resort, Health and Wellness Travel, Study Travel, Sports & Leisure Travel, Winter Olympics Tourism Products, Shopping Travel, etc. Hosted Buyers will be selected in Beijing, Shanghai, Shenzhen, Guangzhou, Chengdu, Tianjin, etc.
2. For international tourism destinations: Hosted Buyers will be selected in second and third-tier Chinese cities.
3. Targeted Buyers will be selected according to international exhibitors' needs and Chinese tourists' consumption habits.
4. MICE Buyers.

Concurrent activities
同期活动